With contributions from: Barry Simon Graham
Sheau Pei Chong – Is the Chief Investment Officer of Zinqular Group's Asia Unit,
Barry Simon Graham – Is the Co-CEO of Global Zinqular Group.
Turning Villages into Urban Centers in Decades
By 2019, United States had 10 cities and China had 65 cities each with over one million people. Turning a country of villages into cities has happened in quite different space in China than the rest of the world. In United States, it took a century. Although the time China took to transform farmlands into urban areas varied, nonetheless, it has been shorten enormously, and some took as little as a decade. According to World Bank, only 20% of Chinese population lived in urban areas in 1980, while by 2017; about 58% of the population were registered in urban areas.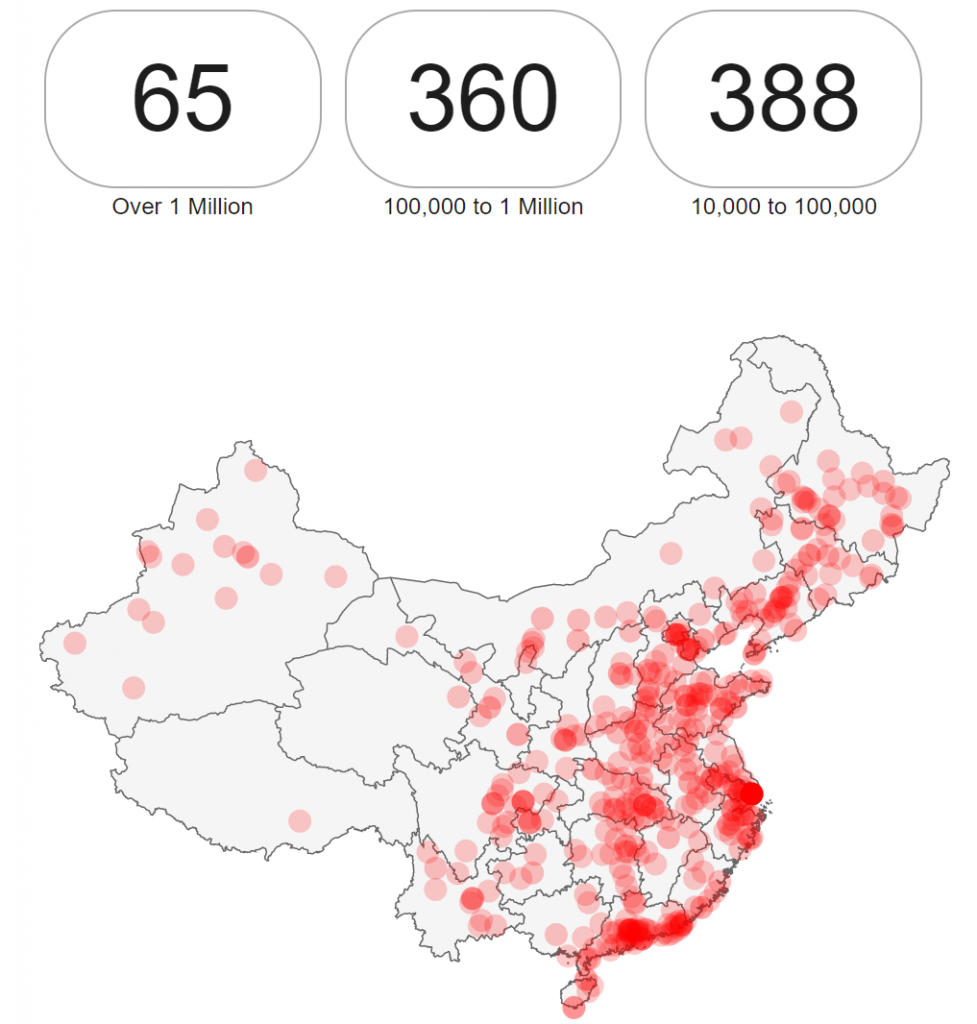 Where China Urbanization is Heading?
The main sources of urbanization in the past 15 years have been driven by land acquisition and migration. Moving forward, migration will become the main driver for urban expansion. Land acquisitions will not feature in a large way in the future years as new government controls on land acquisition as well as a large numbers of cities are running out of land to expand into. China will have 350 million people in urban centers by 2025 according to Mckinsey. Most migration will take place in large and mid-size cities, driven by high share of job growth in these cities and the aging resident populations. Future cities are expected to develop in close proximity to larger existing cities.
New policies at both national and local levels will have high impact where migrants will choose to live and shape the urban future of China. In the next few decades, we anticipate current Chinese mega cities Shanghai and Beijing to continue to be the dominant economic powerhouses. We also expect several mid-sized cities will continue to expand and together with megacities, will drive future growth.
Six megacities that will emerge in future are: GuangZhou, WuHan, TianJin, ShenZhen, ChongQing and ChengDu. In addition, Chinese government "Greater Bay Area" scheme that is to link cities in the Pearl River Delta into an integrated economic and business hub. The Greater Bay Area consists of Hong Kong, Macao, GuangZhou, ShenZhen, ZhuHai, FoShan, HuiZhou, DongGuan, ZhongShan, JiangMen and ZhaoQing regions. It is considered as China strategy planning in building an internationally competitive bay area, with high demand for industrial and commercial properties as well as shopping mall in the coming years. In the following essay, we will discuss three provinces and one special administration region of China in more details.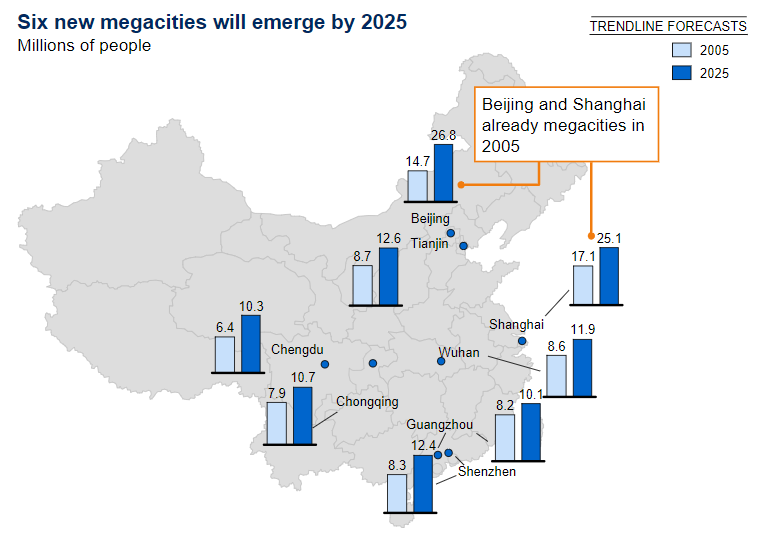 ChengDu Positive Outlook:
Chengdu government issued the Urban Master Plan 2016-2035 to position Chengdu as an international gateway by 2035. Chengdu rapid development in infrastructure and focusing attracting high value added IT industry has drawn the attention of investors. The net yield for industrial park is 7% to 8%, especially for the project in the high-tech southern area. There are currently limited tradable logistic assets in Chengdu, however the development trend of logistic real estate is very positive. With the "Belt and Road" initiative, the establishment of free trade zone and construction of Tianfu Airport, Chengdu logistic will continue to development along with demand on industrial capacity. The retail sales of consumers good have increased by 11.5% year-on-year. The retail business districts have improved significantly in recent years. Moving forward, we expect further business districts growth in the southern area of Chengdu. Tinafu New City business district has great potential for becoming a key commercial hotspot in the future.
GuangZhou Business Park:
The Guangzhou government is committed to promote technology industries. Innovative technology companies entry to Business Parks will be in the form of acquisition or leases, we expect GuangZhou business park investments in several new areas becoming hot spot in the coming years. The net yield for GuangZhou Business Park in 2018 was around 5.5% to 6%. Although Huadu and Nansha District will be the main areas for logistics and warehousing in Guangzhou for the future, due to limited volumes of new supplies, the investment opportunities are limited as well.
Hong Kong Correction:
With limited land supply, historically, Hong Kong was once the world most expensive city to own a home. However, since the protests began in March 2019, Hong Kong property stocks have come down over 20% in recent months. Office, retail and residential buildings are trading at a price to book value of just over 0.4 times. Hong Kong property market is affected by the political stability in the city, the global economy and the performance of the domestic economy. The unrest has hit hard on the tourism and retail industries. Although the turmoil has shown little sign of easing, government are launching supportive policies and housing developers are taking actions to lure back investors. We see that longer term drivers remain positive with mortgage rate at low level, the supply on new land is limited, its strength as global business and financial center. Recent correction due to political protests creates a good chance to investors that selectively accumulate high quality assets.
TianJin as a growing manufacturing and shipping hub: In 2015, TianJin was officially launched as the new Free Trade Zone (FTZ). Under FTZ, TianJin increased financial leasing and introduced relaxed policies for investment and currency exchange. As a city with close proximity (130km) to Beijing,TianJin has realized significant economic growth in the recent years. It has the biggest port in Northern China, with major industries in Tianjin include manufacturing, pharmaceuticals and shipping. More than hundreds of the Fortune 500 companies have made investment in BinHai New Area. In addition, the government is connecting the three regions (Beijing, TianJin, HeiBei) into a megapolis through infrastructure projects and coordinated development to exploit the economic growth. We predict the investment activity in Tianjin (especially WuQing, Airport Economic Zone and BinHai New Area) will continue to grow.
China's Urbanization Investment Opportunities
China's investment in property development grew 10.5% year-on-year in the first eight months of 2019, which amounts to total property investment of 8.46 trillion Yuan according to National Bureau of Statistics (NBS). Sales growth could face some headwinds as China steps up efforts to clamp down on speculative buying. Chinese government will continue to implement long term mechanism for stabilizing its real estate market. Urbanization process for China is far from over, and the needs of residents and business districts to improve their living and commercial environment will continue.
In response to government policies, new technology and innovation, the aging population and the increase of citizen demand on sustainability, Zinqular Group has formulated corresponding and enduring portfolios of investment platform that captures and takes this changing market need into account. We continue to dig deep into valuable real assets brought by urbanization; operate them profitably while flexibly adjusting according to market condition to generate great returns for our investors.
References:
https://www.chinadaily.com.cn/business/2019augcndata/index.html
https://www.colliers.com/-/media/files/apac/asia/colliers-lookingfromabove-cn.pdf
https://www.reuters.com/article/us-china-economy-property/chinas-property-investment-growth-at-four-month-high-in-august-idUSKBN1W102K
https://www2.deloitte.com/content/dam/Deloitte/lu/Documents/realestate/reflexions/lu-spotlight-china-property-market-102018.pdf
http://worldpopulationreview.com/countries/china-population/cities/
https://www.statista.com/statistics/278566/urban-and-rural-population-of-china/
https://www.cnbc.com/2019/10/25/hong-kong-property-prices-unlikely-to-see-major-drop-despite-slowdown.html
https://www.mckinsey.com/~/media/McKinsey/Featured%20Insights/Urbanization/Preparing%20for%20urban%20billion%20in%20China/MGI_Preparing_for_Chinas_Urban_Billion_full_report.ashx
https://www.rhbgroup.com/~/media/files/malaysia/product-and-services/unit-trust/asset-management/fund-fact-sheet/2019/11/rhb-asian-real-estate-fund-1119-pdf.ashx
http://www.askci.com/news/chanye/20180910/0952041131506_2.shtml
https://www.bgycc.com/index.html
Share this: